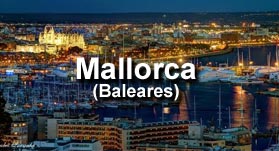 Dinner and show (stripper) in private area in Palma de Mallorca, in the neighborhood of La Lonja / La Llotja.
This neighborhood is one of the most beautiful of Palma and one of the most emblematic of Mallorca, being in the old town and a few steps from the sea. Enjoy this dinner and show for your friend's stag or hen do in the center of Palma de Mallorca.
Group menu 1
It consists of homemade tapas varying between cold, hot tapas, vegetables, meat and fish.
TAPAS – Big portions (to share every 4 or 5 people)
Salad of goat cheese and sobrasada (typical chorizo from Balearic Island)
Patatas bravas (fried potatoes – spanish style) with ali oli sauce
Meatballs In Tomato Sauce
Russian salad
Grilled cuttlefish
Squid to the Andalusian style
Mushrooms gratin with ham and ali oli sauce
Scrambled sausage with peppers
Frito Marinero (seafood dish from Mallorca)
DESSERT TO SHARE
Brownie with ice cream
Crepe filled with ice cream with hot chocolate
Cheesecake with Blueberries
Gató with ice cream
DRINKS
Red and white wine, sangria, beer, water, soft drinks and coffee included; during dinner.
Group menu 2
To share
Russian salad
Squid to the Andalusian
Croquettes varied
Chicken delicacies with spicy sauce
To choose (main dish)
Entrecote of Asturian beef with french fries and standard peppers
Roasted lamb shoulder, rosemary style with potato
Spanish cod to pil-pil style
Sea bass (rolled garlic, vinegar, white wine and a touch of chilli)
Grilled cuttlefish
Dessert
Brownie With Vanilla Ice Cream
Gató with ice cream
DRINKS
Rioja (red wine), Verdejo (white wine), water, sangria, beer and coffee; during dinner.
PRICE GROUP MENU 1 + SHOW STRIP GIRL/GUY = 47€* VAT Inc. per person
PRICE GROUP MENU 2 + SHOW STRIP GIRL/GUY = 49€* VAT Inc. per person
* The price is for a group of 15 people. The price increases or decreases depending on the number of diners.
Click to check other options of Meal/Dinner & Show in Mallorca
Or
Get a quote for your group